Fort Worth Commercial Landscaping
Customizing Outdoor Commercial Landscape Spaces in Fort Worth, Benbrook, White Settlement, and Aledo
Creating an attractive and well-maintained outdoor space for your business is more than just a cosmetic choice. It's an investment that can enhance the appeal of your commercial property and create a positive image in the minds of your clients, customers, and visitors. At Denmark Lawn, we specialize in transforming and maintaining commercial landscapes in Fort Worth, Benbrook, White Settlement, and Aledo, ensuring they're not only beautiful but also functional and sustainable.
We believe that every business, regardless of size or industry, deserves a green space that reflects its commitment to quality, professionalism, and excellence. Our licensed and insured landscaping professionals bring their vast experience and a tailored approach to each project, providing personalized services ranging from lawn care and maintenance to landscaping design and installation. With Denmark Lawn, you can trust that your commercial property will make a stunning first impression all year round.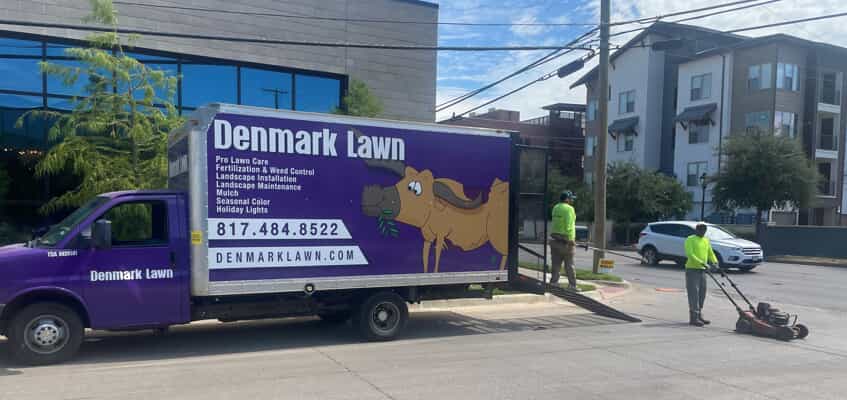 Recent Work
When you choose Denmark Lawn, you can know you're working with a team that is dedicated to getting the job done right the first time.
Hear From Our Happy Customers
At Denmark Lawn, your satisfaction is our priority! See for yourself what our customers have to say about working with us.
"My experience with Denmark Lawn was exceptional and superb. The entire crew transformed my lawn from a heavily-laden mound of leaves into a beautifully landscaped yard. I give them an A+. Thank you!"

- Patty C.

"This is a great lawn service I absolutely loved the work they do. Chris and Chase where courteous and did the best job I would definitely recommend them."

- Meleisha G.

"They were awesome and did an outstanding job. Very professional, just an all around a great company to work with!"

- Jasmine V.
Our Commercial Landscaping Services Go Beyond Basic Lawn Care
At Denmark Lawn, we believe that providing commercial landscaping services means going beyond just basic lawn care. It's about creating and caring for an outdoor space that truly reflects your business's values, ethos, and commitment to quality. Our services encompass a holistic approach to landscaping, ensuring that every aspect of your outdoor space is meticulously planned, designed, and maintained.
We don't just mow lawns and trim hedges; we create stunning landscapes that enhance the aesthetic appeal of your property and provide a space for relaxation and enjoyment. From vibrant, colorful flower beds to functional hardscapes and efficient irrigation systems, our team ensures that every element of your landscape works in harmony to create a cohesive, beautiful, and sustainable environment.