Lawn Fertilization in Fort Worth
We use granular fertilizers to allow for a gradual absorption of nutrients over time!
If you want to achieve a healthy, emerald green lawn year-round, you've come to the right place! We offer a lawn fertilization program that will provide your lawn with the nutrients that it needs to thrive. What's more, this program also includes weed control treatments to keep your property free of weeds. When you sign up for this program, we will visit your property 8 times throughout the year to apply our treatments. And, our treatments are safe for pets! All you need to do is let the treatments dry before you let your pets use your lawn again.
We offer our lawn fertilization service to residential, commercial, and HOA property owners in Fort Worth, Aledo, White Settlement, TX and throughout the surrounding areas.
To learn more about our Fort Worth lawn fertilization services and to request a free estimate, call Denmark Lawn at (817) 631-5751 today!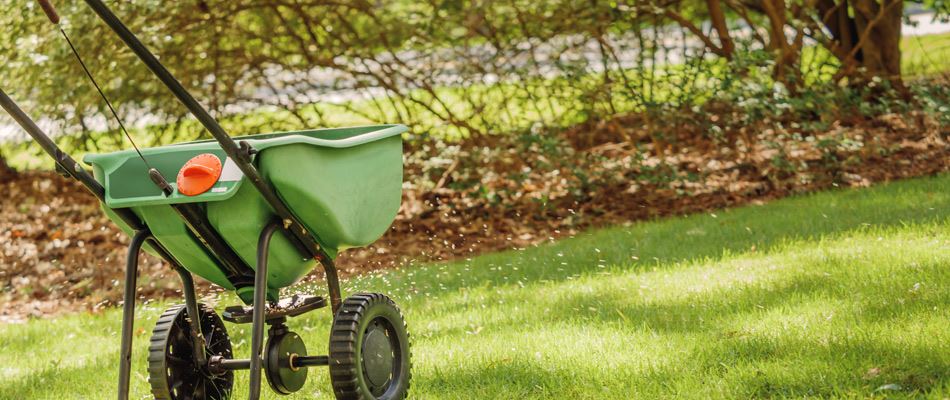 Recent Work
When you choose Denmark Lawn, you can know you're working with a team that is dedicated to getting the job done right the first time.
Hear From Our Happy Customers
At Denmark Lawn, your satisfaction is our priority! See for yourself what our customers have to say about working with us.
"My experience with Denmark Lawn was exceptional and superb. The entire crew transformed my lawn from a heavily-laden mound of leaves into a beautifully landscaped yard. I give them an A+. Thank you!"

- Patty C.

"This is a great lawn service I absolutely loved the work they do. Chris and Chase where courteous and did the best job I would definitely recommend them."

- Meleisha G.

"They were awesome and did an outstanding job. Very professional, just an all around a great company to work with!"

- Jasmine V.
Call Us Today to Schedule Our Lawn Fertilization Service
At Denmark Lawn, we've been offering our professional lawn fertilization service since 2009. We have years of experience in the lawn care industry, and we train our staff on an ongoing basis to ensure we perform our service to the best of our ability. When you sign up for our lawn fertilization program, you're receiving more than just fertilizer treatments, but weed control treatments too! You can rest easy knowing your lawn will be healthy, weed-free, and beautiful year-round.
We offer our lawn fertilization service to residential, commercial, and HOA properties in Fort Worth, Aledo, White Settlement, TX, and other nearby areas. Contact us today at (817) 631-5751 to schedule this service!