Sod Installation in Fort Worth
Sod Installation Service in & Around Fort Worth, Aledo, & White Settlement, TX
We offer St. Augustine, zoysia, and bermuda sod!
Sod is a quick and easy option for establishing your new lawn, and we're here to help you with that! At Denmark Lawn, we follow a comprehensive process to prepare the existing area for your new sod, ensuring precision and quality during installation. The sod types that we commonly install include St. Augustine, zoysia, and bermuda. While your new lawn will look beautiful immediately, sod is fragile and needs special care before you can treat it as you would normal turf. Fortunately, our experts will walk you through how to care for your new sod for the best results, and we cover our installation service with a 30-day warranty! Even after we complete our service, we'll be there to help you maintain your sod so it stays in pristine condition.
We offer our sod installation service to properties in and around Fort Worth, TX, including Aledo and White Settlement.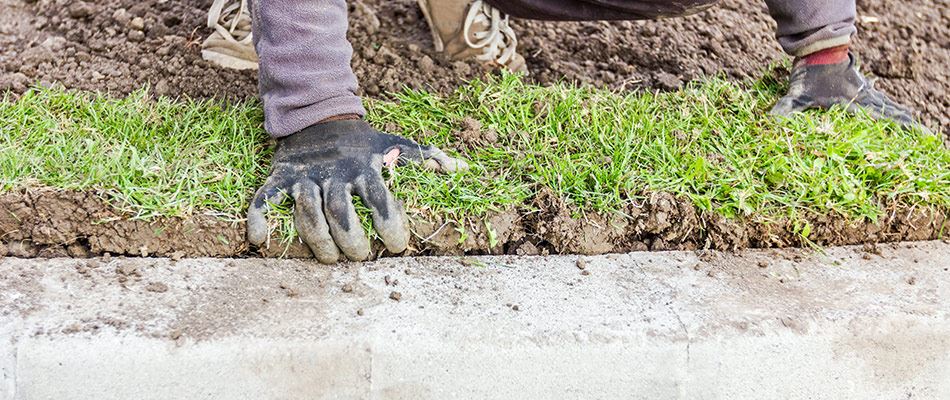 Our Sod Installation Process
Proper sod installation is crucial to achieving a beautiful lawn, and we take special care to ensure we do it right the first time. Our sod installation process is as follows:
We clear the existing area of any remaining debris and grass.
We'll flag the irrigation heads to avoid damaging them.
We will till the soil in preparation for the new sod.
We lay down the sod carefully, lining up the edges and ensuring no gaps.
We will use a roller to press the sod down for optimum contact with the soil underneath.
We'll add a thin layer of sand and top dressing soil to the new sod.
We water the new sod thoroughly to start encouraging root establishment.
To learn more about our Fort Worth sod installation and to request a free estimate, call Denmark Lawn at (817) 631-5751 today!
Recent Work
When you choose Denmark Lawn, you can know you're working with a team that is dedicated to getting the job done right the first time.
Hear From Our Happy Customers
At Denmark Lawn, your satisfaction is our priority! See for yourself what our customers have to say about working with us.
"My experience with Denmark Lawn was exceptional and superb. The entire crew transformed my lawn from a heavily-laden mound of leaves into a beautifully landscaped yard. I give them an A+. Thank you!"

- Patty C.

"This is a great lawn service I absolutely loved the work they do. Chris and Chase where courteous and did the best job I would definitely recommend them."

- Meleisha G.

"They were awesome and did an outstanding job. Very professional, just an all around a great company to work with!"

- Jasmine V.
Sign up for our sod installation service today!
Don't wait for your dream lawn - establish a beautiful and healthy green lawn immediately with our sod installation service! We have 13 years of experience installing sod and you can trust that we'll be thorough and precise so you can immediately begin reaping the benefits of your new lawn. Our sod installation service is available to residential, commercial, and HOA property owners in Fort Worth, Aledo, White Settlement, and other neighboring areas in Texas.
Contact us at (817) 631-5751 to sign up for our service today!