Lawn Mowing in Fort Worth
Lawn Mowing Service in & Around Fort Worth, Aledo, & White Settlement, TX
We follow a custom mowing schedule to maintain your lawn throughout the year!
At Denmark Lawn, we offer a lawn mowing service that will help keep your property looking neat and manicured all year long. We adjust our mowing schedule throughout the year to ensure your lawn is being mowed when it needs it. What's more, our lawn mowing service also includes trimming, edging, and blowing. We implement the best practices during our service to ensure your lawn is mowed correctly without causing any damage to it. You can rest assured that your turf is in good hands with us!
We offer our lawn mowing service to residential, commercial, and HOA properties in Fort Worth, Aledo, White Settlement, and other surrounding areas in Texas.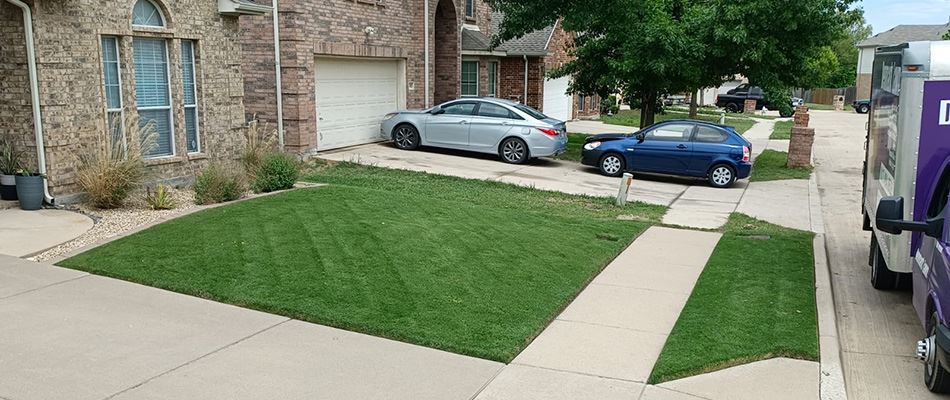 Our Lawn Mowing Schedule
At Denmark Lawn, we customize our lawn mowing schedule to match the growth rate of your lawn. Because your grass doesn't grow at the same pace all year long, it won't always need to be mowed every week. To ensure your lawn stays looking neat and manicured throughout the year, we customize our mowing schedule as follows:
March - October - Your grass will be growing rapidly during this time, so we will mow it every week to keep up with the growth.
November: We will cut back to bi-weekly mowing in November as your lawn won't be growing as fast.
December - January: During these months, your grass will be growing at a slow pace and will only need to be mowed once per month.
February: As the growing season starts to ramp back up, we will increase the mowing frequency back to bi-weekly.
Recent Work
When you choose Denmark Lawn, you can know you're working with a team that is dedicated to getting the job done right the first time.
Hear From Our Happy Customers
At Denmark Lawn, your satisfaction is our priority! See for yourself what our customers have to say about working with us.
"My experience with Denmark Lawn was exceptional and superb. The entire crew transformed my lawn from a heavily-laden mound of leaves into a beautifully landscaped yard. I give them an A+. Thank you!"

- Patty C.

"This is a great lawn service I absolutely loved the work they do. Chris and Chase where courteous and did the best job I would definitely recommend them."

- Meleisha G.

"They were awesome and did an outstanding job. Very professional, just an all around a great company to work with!"

- Jasmine V.
Sign up for our professional lawn mowing service!
If you're looking for a company you can trust to mow your lawn throughout the year, you've come to the right place. At Denmark Lawn, we will always show up on time, in uniform, and ready to perform exceptional services that you'll be satisfied with, guaranteed! By following a custom mowing schedule and performing our service thoroughly and according to ideal practices, your lawn will stay well-manicured throughout the year - with no time and effort taken from you! All you'll have left to do is enjoy your beautiful yard.
We offer our professional lawn mowing service to homeowners, business owners, and HOA property owners in and around Fort Worth, TX, including Aledo and White Settlement. Contact us at (817) 631-5751 to sign up today!