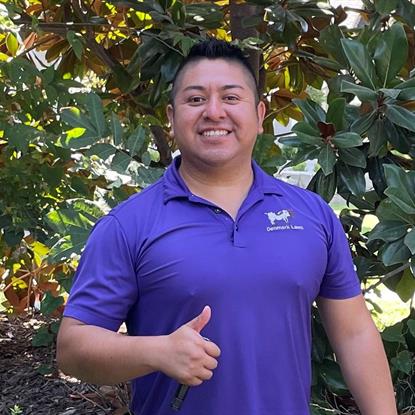 Esdras "Ed" Dominguez General Manager
Hello, I'm Esdras Dominguez, but you can call me ED. I hail from the vibrant land of Mexico and spent a significant part of my childhood in the dynamic border towns of Tijuana and San Ysidro, California. My journey has taken me from the bustling corporate world of El Segundo, California, where I honed my financial skills, to the great state of Texas, where I embarked on a new adventure with my family.
As the General Manager at Denmark Lawn, I don many hats to drive our company's success. My responsibilities span from overseeing production and scheduling to ensuring our clients are delighted with our services. Logistics and coordination are at the heart of our daily operations. With the support of our dedicated Shop Manager, we ensure our teams have the right equipment and use them proficiently to deliver the best possible experience in the lawn and landscaping industry.
My true passion lies in helping others. Identifying the needs of individuals and extending a helping hand within my capacity is something I strive for. Family holds a special place in my heart, and I dedicate myself daily to assist them in achieving their goals. Working at Denmark Lawn provides me with a unique platform to identify members of our community in need and collaborate with the entire company to provide free services to those who may not be able to afford them. It's our way of giving back and sharing the blessings we've received.
Every day is a learning experience, and my journey at Denmark Lawn has contributed to my personal growth. It's made me a better father, husband, and friend. Integrity is a cornerstone value that we all uphold. Building stronger relationships with family, friends, coworkers, and clients is the result of practicing integrity in my life. At Denmark Lawn, we work diligently to do what we promise, when we promise, and how we promise it.
Despite the weight of responsibilities on my shoulders, I carve out time to enjoy life with my family. We share a love for exploring state parks, although nature can sometimes surprise us. Encounters with copperhead snakes while fishing or rattlesnakes on hiking trails have certainly added excitement to our adventures. When I'm not immersed in work, I love to return home and strum my guitar, reliving the memories of my rock band days.
In the dynamic world of landscaping and beyond, I am committed to making a positive impact on the lives of those around me. Thank you for joining me on this journey of growth, giving, and the pursuit of excellence.