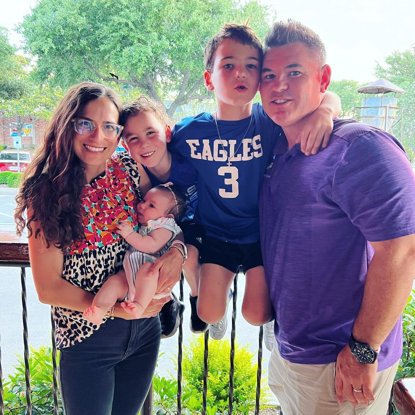 Kyle Denmark Founder
Meet the visionary behind Denmark Lawn, Kyle Denmark, whose entrepreneurial journey is a testament to determination, innovation, and the pursuit of excellence.
Kyle embarked on his entrepreneurial journey with a clear purpose in mind – to pay for his college education. His dedication led him to earn a Bachelor of Exercise Science degree from the University of Texas at Arlington (UTA). While pursuing his academic goals, he simultaneously worked as a physical therapist assistant, demonstrating his remarkable ability to balance academics and career growth.
In 2017, Kyle made a pivotal decision to transition from the healthcare industry and fully immerse himself in running Denmark Lawn. This shift marked the beginning of a new chapter where he could unleash his creativity and make a profound impact on the landscaping industry.
Kyle is the driving force behind Denmark Lawn, with a unique skill set that sets him apart. His proficiency lies in evaluating risk, solving complex problems, nurturing relationships, assessing the big picture, and cultivating leadership within the organization. As the visionary leader, his daily focus is on serving others, both within and beyond the workplace.
Beyond business, Kyle's life is anchored in faith and service. He actively seeks opportunities to share Christ with individuals, embracing a higher calling that extends into his professional life.
 Outside the realm of entrepreneurship, Kyle finds joy in spending quality time with his family and engaging in athletic activities with his children. A fitness enthusiast, he is dedicated to personal wellness and enjoys regular workouts. Kyle is also an avid consumer of knowledge, often immersing himself in audiobooks. Additionally, his real estate ventures reflect his commitment to financial growth and stability.
Kyle's journey is characterized by resilience and the embrace of failure as a stepping stone to success. He aspires to lead a life that honors his faith, reflects his values, and makes his family proud.
Our Family
When we are not running the business, we are raising our two sons and daughter. If you see us around the neighborhood with a stroller, a soccer ball, and a football, stop us, and say "hi!